...it's not a Load of Rubbish!
​
Is our future being wasted? Pollution is accelerating, climate change is threatening and we live in a world where we want everything… now. What is all this doing to our planet?

The answer could be the greatest challenge of our time.
Meet the gang who've dug deep and are ready to come clean with the biggest scoop of the century.
World-wide Waste invites audiences to look at the huge waste issues around this planet and to become an Environmental Hero, intent on finding solutions.
Blending fascinating factoids, wicked humour and bright illustrations, this book is both educational and fun.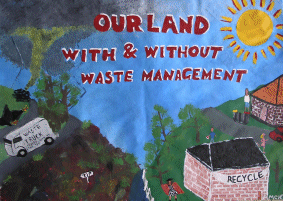 This National Art Competition asked kids aged between 5-13 to create posters about Waste and Recycling
Zero Waste is what we're aiming for
How can we help? This poster shows two parallel worlds
The protection of the world is in our hands
Saving Water reduces waste
Sickly earth
Sickly Earth needs everyone's help
The winner of the Waste Competition created this poster
Recommendations
'Someone wisely remarked that "Now there is no place called AWAY where we can throw things anymore!" Waste is one of THE most important issues facing everyone. Caren Trafford's book is factually spot on and really fun.
Robyn Williams, AM, ABC Science Show.
​
'This is a great book; it helped me understand recycling and the different ways there are to reduce waste. I loved the pictures, they're mad.'
Olivia Chiu, School Student
KEY TOPICS INCLUDE
What is water?
Why is it important?
Molecules & Composition?
Waterfalls and Oceans
Water and the Weather
The Water Cycle
Importance in History
Irrigation, Civilisation, Qanats , Dams
Hydro Power
Water Wastage
Conservation
May the Source be with you
Spouts & Slides: Game
....plus countless fun facts